Zuckerberg San Francisco General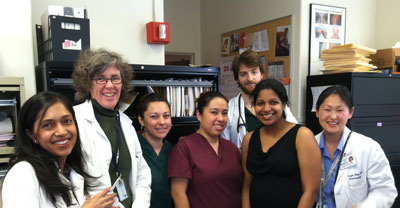 The ZSFG Division of Endocrinology and Metabolism provides specialty care in diabetes and general endocrinology for patients receiving care in the San Francisco Safety Net.
Clinical services include:
Lipid Clinic
Diabetes Program
General Endocrine Services
Thyroid FNA clinic
Endocrine E-Referral
Diabetes E-Referral
Inpatient Endocrine Consultation Service
In addition, we provide subspecialty care for safety net populations in the SF bay area and beyond. Clinical systems innovations have focused on improving patient access and decreasing patient wait time.
General Endocrine (Ward 92)

Monday fellow continuity clinic
Thursday general endocrine clinic (± didactic)
Endocrine E-referral

Lipids (Ward 92)

Tuesday clinic with didactic

Diabetes (GMC and Ward 92)

Friday diabetes clinic (with didactic)
Tuesday NP intensive insulin management clinic
Diabetes E-referral