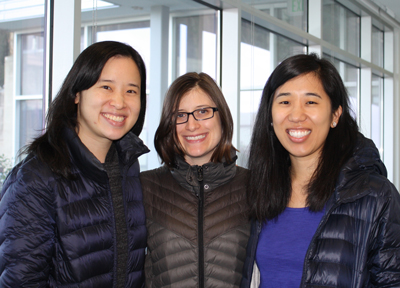 The Integrated Fellowship Training Program in Diabetes, Endocrinology and Metabolism (DEM) at the University of California, San Francisco is designed for physicians who have completed internship and residency training in Internal Medicine and are interested in a career in academic medicine as clinician scientists and educators. This fully ACGME-accredited program consists of one exclusively clinical year, followed by two years of endocrine research. Trainees qualify for ABIM specialty board certification in Endocrinology, Diabetes and Metabolism and obtain sufficient research experience to pursue a career in academic medicine. Our trainees go on to careers in academic medicine, endocrine clinical practice and the pharmaceutical/biotechnology industry, with a track record of appointments in highly competitive positions. In general, preference for acceptance into the program is given to those qualified applicants who wish to pursue a career in academic medicine.
Clinical Training
The first year of the fellowship focuses exclusively on clinical training in Diabetes, Endocrinology and Metabolism. There are separate divisions of Diabetes, Endocrinology and Metabolism at the Zuckerberg San Francisco General Hospital, the San Francisco Department of Veterans Affairs Medical Center, and the UCSF Medical Center. The clinical year consists of four three-month rotations, with 6 months at the UCSF Parnassus site and 3 months each at the SFVAMC and ZSFG. These rotations involve extensive inpatient and outpatient exposure to the full spectrum of problems in endocrinology and metabolism including disorders of the thyroid, adrenal, hypothalamus, pituitary, parathyroids, and gonads; endocrine hypertension; metabolic bone and calcium disorders; type 1 and 2 diabetes mellitus, obesity and lipid disorders; and outpatient exposure to pediatric endocrinology. Fellows are also trained in thyroid ultrasound and fine needle aspiration biopsy and in insulin pump and chronic glucose monitoring technology.
Training throughout emphasizes outpatient endocrinology and consultative endocrinology. Approximately 40% of a fellow's clinical year is spent in endocrinology subspecialty clinics, including general endocrine, diabetes, lipid, thyroid, metabolic bone, pediatric endocrine, obesity and endocrine surgery clinics. The clinical year gives trainees broad exposure to a large cadre of full-time and part-time clinical faculty (> 75 faculty members) with specialized expertise in these problems. Fellows attend weekly didactic sessions and lead weekly clinical conferences throughout the year.
All fellows have an Endocrine Continuity Clinic for three years. This ensures them the opportunity to follow patients long enough to witness the natural history of endocrine disease and its therapy unfold. Fellows in their third year have the opportunity to attend elective clinics in reproductive endocrinology, neuroendocrinology, thyroid biopsy, thyroid cancer and obstetric diabetes and endocrinology. Clinics have associated conferences supplemented with in-depth individualized faculty training and mentoring. All fellows attend the monthly Endocrine Fellows-Faculty Journal Club. Fellows are encouraged and supported to attend one national meeting in diabetes, endocrinology, and metabolism in their second and third years.
Research Training
The second and third years of the fellowship focus on training in DEM research. Plans for research training and selection of research mentors are discussed with the Program Director, Career Mentors and endocrine faculty during the first year of the fellowship. The UCSF DEM faculty includes approximately 75 distinguished researchers, clinicians and educators at UCSF drawn from multiple academic departments and representing every discipline within endocrinology and metabolism and their related basic and clinical sciences. Fellows can also choose mentors outside of this group, but then need to choose a co-mentor from among the DEM faculty. Examples of the breadth of research opportunities available to trainees are illustrated by the attached research summaries.
Research training in the DEM Program is primarily funded by an NIH Training Grant from the National Institute of Diabetes, Digestive and Kidney Diseases, and typically follows one of two pathways, the Basic Scientist Pathway and the Clinical Investigator Pathway.
Basic Scientist Pathway
Recognizing that our pool of fellows consists of individuals with disparate backgrounds in science and research, there are several options for training in basic research.
One option consists of practical training in the laboratory of an established bench investigator supplemented by formal courses in cell biology, molecular biology, genetics, immunology, biochemistry, or other topics offered through the UCSF graduate programs [e.g., the Biomedical Sciences (BMS) Program or the Program in Biological Sciences (PIBS)].
A second option, often pursued by endocrine fellows with previous research experience, is to have their research training experience take place in the laboratory of their chosen mentor, supplemented with ongoing seminars and conferences in that laboratory or department.
A third option is to apply to the UCSF Molecular Medicine Training Program (MMTP) for internship and residency with subsequent tracking into the DEM Fellowship Training Program. This competitive institution-wide program provides advanced training in the experimental study of the molecular and cellular basis of disease. This is done through individual laboratory research, lectures, seminars and journal clubs. In addition, through an individual advisory/mentoring system, the program provides guidance and advice about the practicalities of pursuing a career at the interface of science and medicine. Many DEM faculty mentors are also MMTP faculty.
As a fourth option, trainees may choose to pursue a PhD degree in the BMS Program at UCSF, an elite graduate program in integrative biology with an emphasis on the study of human disease. One can apply to this program before or after arriving on campus.
Clinical Investigator Pathway
Like the Basic Scientist Pathway, this program recognizes the disparate training needs of our fellows and consists of a combination of mentored research experience and formal training.
The clinical research training experience is planned by the fellow in conjunction with his/her chosen research mentor, Career Mentor and Program Director. Available research projects span the full range of clinical investigation, from clinical trials performed in the clinical research facilities of the UCSF Clinical and Translational Science Institute (CTSI) to studies in epidemiology and biostatistics using massive international data bases, and cover topics such as hyperlipidemia, cardiovascular endocrinology, osteoporosis, growth hormone therapy, thyroid cancer, pituitary and adrenal disorders, wasting syndromes, obesity, and type 1 and 2 diabetes.
Fellows in the Clinical Investigator Pathway can supplement their research training with coursework through the UCSF Training in Clinical Research (TICR) Program, which provides a spectrum of training covering basic clinical study design, biostatistics, epidemiology and medical ethics. These courses are available individually or as part of larger programs awarding a certificate or masters degree in clinical research.
How to Apply
Applicants interested in applying to the program should apply a year prior to the desired start date. Applications are accepted exclusively through the Electronic Residency Application Service (ERAS), which also provides instructions and application deadlines. Invitations to selected applicants for interviews are generally issued within a few weeks of the receipt of your application. We will schedule your interview on one of two Saturday interview days at the UCSF Medical Center Campus on Parnassus Avenue.
For specific questions about the DEM program, research opportunities in a specific field, or the application process, you are encouraged to contact the DEM Program Coordinator.
Combined Training in Adult and Pediatric Endocrinology Fellowships
The UCSF Adult and Pediatric Endocrine Fellowship programs are proud to have a collaborative training program for combined medicine/pediatric training. The program includes 1 clinical year of adult endocrine clinical training, 1 clinical year of pediatric endocrine clinical training, and 2 years of endocrine research. Candidates in this training program are eligible for both Pediatric and Adult Endocrine Board Certification, once written approval of the training plan is obtained from the American Board of Internal Medicine and the American Board of Pediatrics. Eligibility for this program is determined on a case-by-case basis. Interested candidates must contact both UCSF fellowship programs for more information prior to applying.